One of the deepest swim spas in the World – over 63 inches tall, the SW19 also has one of the widest and longest swim areas of any aquatic therapy spa. Entry steps from both sides as well as the therapy end, makes it very convenient entry and exiting the swim area. Two reclining therapy seats and two vertical therapy positions make the the SW19 ideal for both swim training, a place to renew your muscles, or a resort in which you can simply relax. One of the great features of the SW19 is the integrated tanning bed.
Can your regular pool do all that?
Optional Features:
Deluxe Stereo System with Sub Woofer
Built-in Speakers
Rowing and Resistance Band Accessories Available.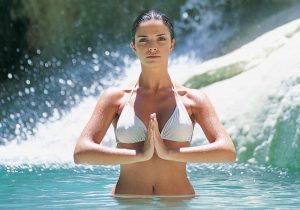 Swimmer 19 Specifications
Shell Dimensions: 93 3/4" x 234 1/4" x 62 3/4" / 237 cm X 595 cm x 159 cm
Height: 63″ / 160 cm
Volume: 2,700 Gallons / 10,240 Liters
Weight Full: 25,177 Lbs / 11,420 Kg
Weight Empty: 2,600 Lbs / 1,180 Kg
Seating: 3 hot tub therapy seats (1 swimmer)
Water Jets: 56 (3 River Stream Jets)
Electrical: 240V/60A Swimmer 19
Swimmer 19 Features
Comfortable Pillows (2)
150 Sq. Ft. Lily Filtration System
ABS Insulated Base and Support Structure
Digital Smart Controls
Custom Designed Stainless Steel Hydrotherapy Jets
Lucite® Cast Acrylic
Deluxe LED Lighting
WiFi System
Stainless Safety Entry / Exit Handrails
Maintenance Friendly Synthetic Cabinet
Ozone Generator (2)
Heavy Duty Cover(s)
16 Gauge Welded Steel Frame
Stainless Safety Handle(s)
Components that Meet Safety Standard
Optional Features:
Deluxe Stereo System with Sub Woofer
Built-in Speakers
Rowing and Resistance Band Accessories Available
XT Insulation Package
Salt System