Everlast Polymer Base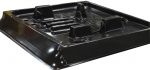 All Pinnacle Spas start with an extra thick 1/4 inch thick ABS airtight floor that helps keep heat in and critters out. This modular foundation features a rigid reinforced foot well support. Each model has its own specific base engineered for that specific footprint.
Incorporated Component Stands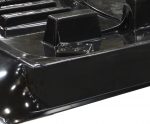 Other key parts of the Everlast Polymer Base are the component mounts that assist in noise and vibration reduction. These stands also serve as peak quality control measures since only the right parts fit and must be installed in the same places and same fashion in every hot tub.
High-Pressure Energy Saver Pump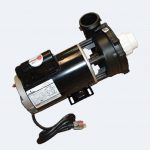 This system implements an industrial strength, 220 volt, 56-fram motor threaded in to a powerful wet end. In swim spas, these pumps push 300 gallons per minute. In hot tubs they provide more efficient airflow and help to achieve balanced water pressure through each jet. This single speed pump performance is equivalent to the high setting on the dual speed pump.
Smart Control Panel With M7 Technology
The Energy Saver system allows your spa control pack to work in conjunction with the encased heating system via integrated sensor functionality for high reliability. This technology also increases the ease of installation as well as the serviceability – should it ever need to be accessed.
Purifying Ozone System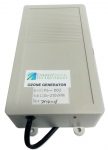 All Pinnacle Spas are equipped with corona discharge ozone systems that are highly effective in removing unwanted contaminants from the water via O3 oxidation. Our ozonators also greatly reduce the need for chemicals and naturally help clarify your water. Our cell technology lasts 3-4 times longer than competitive CD ozonators for peak water clarity that lasts.
Spillover Water Fall
This sparkling water feature creates ambiance and a soothing atmosphere via a simple turn of its own freestanding control valve. This is a more traditional type waterfall with a horizontal edge flow.
Digital Bluetooth System
Wildly popular, this system is as simple to use as your music player. Your tunes are amplified via an adjustable sub-woofer that is mounted to the Everlast Polymer Base.
Premium Stainless Hydrotherapy Jets
These classy, shiny jets bring out the aesthetic appeal and durability of the Pinnacle Spas peak hydrotherapy system. These jets not only add a visual design element, they also stand up better to the harsh outdoor elements than their plastic alternative. The Pinnacle Plus jets are 2-tone, while the Standard jets are solid stainless. (Jet types vary according to spa specifications)
Thermazone Barrier Insulating System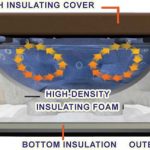 We believe the benefits of this blanket insulation are a more efficient hot tub than full foam and unquestioned easy access to components. It includes a solid-cell, high-density layer of insulation on the underside of the shell, a similar base of insulation on the Everlast Polymer Base, a layer of reflective foil wrapped completely around the support structure and the Heat Shield Cover for peak efficiency.
50 Sq. Ft. Filtration With Vein Channels
The top of the filters in the Pinnacle spas pop off to reveal a skimmer basket, solid vein channels and a filter cartridge containing approximately 50-feet of media. The vein channels are not designed to "float" but rather help direct the water to the filter cartridge for peak water clarity.
Zoned Manifold Air Controls
These valves are positioned on the topside flange of the hot tub near each seat. They all add a boost of air injection to an already soothing water massage. Turn them on for full power, or off for just standard water power.
Gravity Drain

These standard drain systems are popular because they are easy to use. Mounted in the crease of the foot well with a slight groove in the mold to help assist water flow, they drain out through an exterior bib valve. When you need to empty your spa, simply open the valve on the drain bib (outside your cabinet) and let gravity do the work for you.
LED Cup Holders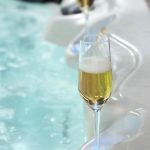 You like lights? Lights are everywhere we could put them on the Pinnacle Plus spas – including the built-in cup holders. Clear glasses and bottles full of your favorite beverage illuminate at night when you choose one of the 10 color settings.
LED Multi-Point Light
LED lights are found submerged on the hot tub floor area so the user can easily and safely illuminate their water and enter at night. Many other manufacturers use a regular light bulb here or offer no lights at all.
Child Safety Locks
Use these locks, that are included with every Heat Shield Cover, to securely fasten your cover to your cabinet. They can be locked to prevent unauthorized hot tub entry and also keep your cover securely in place. (You will find these in an envelope tucked in the cover during shipping.)
Shut-off "T" Valves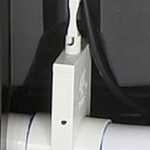 As an added peace of mind, you can rest assured knowing you will never have to drain and refill your Pinnacle hot tub to troubleshoot key inline components. For example, if a heater or motor ever needs servicing, simply slide the valve down to cut off the water supply and make the necessary adjustments and preserve your water.
Built in Speakers
A pair of marine-grade, circular speakers are mounted to the wall above the water line, but below the flange. These splash-proof speakers are designed to last longer than the retractable speakers found in many other spas that need to be manually or electronically engaged after the cover is removed. (Found in Pinnacle Plus and Premium models only)
Solid-Frame Support Structure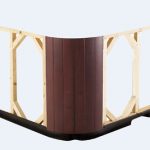 Our enhanced frames are built onsite in our woodshop by master carpenters. Corner anchor supports are assembled to tie the framework together in a strong, durable manner. It also features four removable panels for easy access to your components.
Synthetic Maintenance Free Cabinet
Synthetic wood cabinets (available in American Heritage or Grey) are more durable and weather resistant than plastic or wood skirting. This choice of material keeps the hot tub from warping or fading and helps maintain a new appearance.
Comfort Design Pillows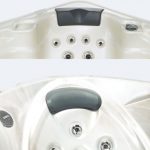 Contoured to cradle the head and neck comfortably, with enough cushion to complement everyone's shape and size these headrests are standard in all Pinnacle Spas.
VGB-Compliant Safety Covers
All hot tubs and spas must adhere to the Virginia Graeme Baker Pool and Spa Safety Act. All Pinnacle Spas meet this suction/entrapment code and the proof is stamped right on every cover grate.
LED Safety Mood and Perimeter Lighting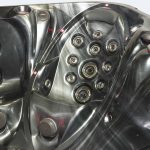 The color of light influences your body's comfort centers in a subtle but yet undeniable way. Our deluxe LED lighting system creates a visually stunning and tranquil bathing environment.
Heat Shield Cover – 5 Inches**
Pinnacle Plus and Premium hot tubs come with an extra thick, 5" tapered cover that allows more heat retention and absorbs less humidity. The tapered cover permits water that can gather on the cover, to runoff. The cover is also an additional safeguard against weather and debris.