Description
Although adorned with multiple features and options, this unit was designed for swim training. A wide open (no internal obtrusion's) and an extra long swim lane (13'….) make it ideal for the novice or the avid swim enthusiast. Bring your goggles and take a test plunge.
The Swimmer 18 designed to provide backyard fun and benefits in just the right size for you. Whether you want the convenience of swimming without having to turn and repeat laps or the kids are begging for a place to splash around. With a trio of river jets to swim against and a bevy of therapy jets to relax in, this unit is perfect for building muscle, physical therapy or just plain fun. Since the water can be heated to your desired temperature, the Swimmer can be enjoyed year round. Consider that a recent University of South Carolina study has proven that swimming can cut men's risk of dying from cardiovascular disease in half.
Can your regular pool do all that?
The Swimmer 18 is a large 18 foot swim spa with 3 each River Stream Jets and a large 10′ and 6 inches of swim lane.
Optional Features:
Deluxe Stereo System with Sub Woofer
Built-in Speakers.
Rowing and Resistance Band Accessories Available.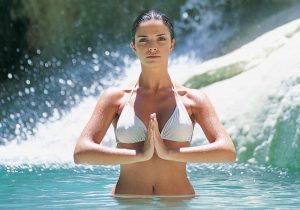 Swimmer 18 Specifications
Shell Dimensions: 2137″ x 89″ / 541 cm x 226 cm
Height: 58″ / 137 cm
Volume: 2,400 US gallons / 9,085 liters
Weight Full: 19,424 lbs / 8,811 kg
Weight Empty: 1,900 lbs / 862 kg
Seating: 12 hot tub therapy seats (1 swimmer)
Water Jets: 18 (3 River Stream Jets)
Electrical: 240V/60A Swimmer 18
Swimmer 18 Features
Two Self-Contained, Climate-Controlled Environments
Temperature Controlled
Heat the Spa Up to 104 Degrees
Challenging 1, 2 or 3 High Volume Water Jets
Extra Wide Swim Lane (10′ 6″)
Combined With a Swim Current of More Than 1,000 GPM
Comfortable Pillows (2)
100 Sq. Ft. Filtration System
ABS Insulated Base and Support structure
Digital Smart Controls
Custom Design Stainless Steel Hydrotherapy Jets
Lucite Cast Acrylic
Deluxe LED Lighting
Maintenance Friendly Synthetic Cabinet
Ozone Generators (2)
Heavy Duty Covers
16 Gauge Welded Steel Frame
Support Components that Meet Safety Standards
Optional Features:
Deluxe Stereo System with Sub Woofer
Built-in Speakers.
Rowing and Resistance Band Accessories Available
Swimmer 18 Parts
To Order Parts
Contact
Sales@Pinnaclespas.com
Hours of Operation: 8 a.m. to 5 p.m. EST
Call Toll Free: 1-800-304-9684